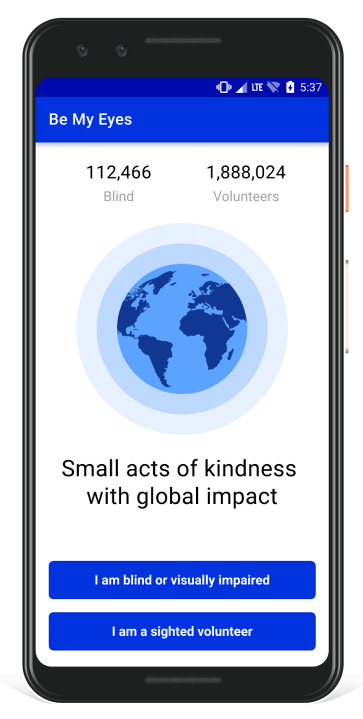 Be My Eyes – Helping the blind
Lend your sight to blind and low vision people through a live video connection, or receive assistance through the global network of volunteers. Be My Eyes connects blind and low vision users with sighted volunteers or company representatives who can assist them with a range of tasks.

Blind and low vision users can request help from a sighted volunteer, who is notified on their phone. As soon as the first volunteer accepts the request for help, a live audio-video connection is established between the two parties. Through the blind or low vision user's rear-facing camera, the volunteer can see the item or subject the user needs assistance with and provide the visual description he or she needs.

As a blind or low vision user, you can request assistance through Be My Eyes at any time of the day, from anywhere in the world, in more than 180 languages. Be My Eyes connects you to a sighted volunteer who speaks your language and can help you with anything from simple tasks, like checking expiry dates, to more complicated situations, like navigation or finding a lost item.